One of my most enjoyable Thanksgivings was spent in the backcountry.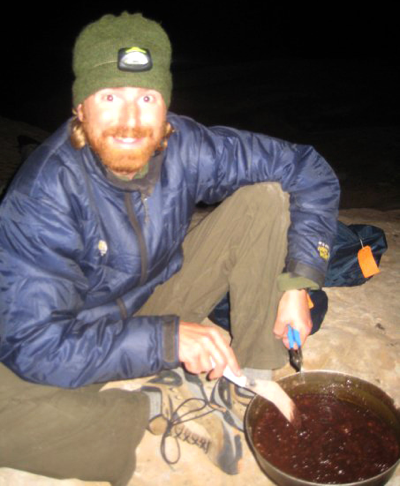 I was a student on a semester course. We were in the Canyonlands of Southeast Utah; pretty much spending most of our days looking for water. Just a few days before Thanksgiving we were set to divide into separate travel groups. The night before we decided to have a big group Thanksgiving dinner. Included in our last re-ration supplies were all the ingredients we needed: instant potatoes, powdered gravy packets, instant stuffing, packets of turkey, and even a few cans of pumpkin. We had been lugging around this extra feast weight for a week and were more than ready to eat it all!
At the end of a riotously fun group bake off, we all were sitting around a fire with our bowls of turkey, mashed potatoes, and stuffing. We even managed a pumpkin cake that turned out to be super delicious! As we settled in around the fire the question was asked by one of our group, "what are you most thankful for right now?"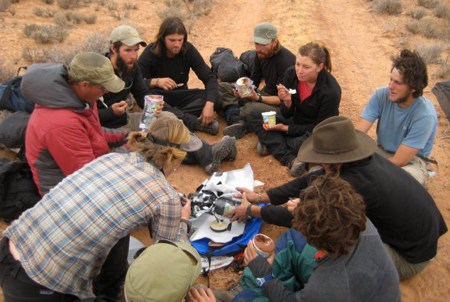 Now, I've been asked that question, and answered it, many times in my life on Thanksgiving. Being out on course, whether it's backpacking in the mountains, white water canoeing, canyoneering in Utah, or any of the other places courses are run, really puts you in a place of consideration and reflection. I thought of my family. I thought of how it felt that I had won the cosmic lottery to even be in the position to do what I was doing, in the amazing land we were traveling in, with a great group of people that I was forming strong bonds with.
Our group separated into three travel groups the next day and went different ways for the next week. On Thanksgiving day some of us were crossing the Dirty Devil multiple times, some were settled in camp fasting, and some were on solo. We were separated by distance, but our shared geography and shared experience of being out on course, with the normal trappings of Thanksgiving in the front country stripped away, allowed us so much more space and time and perspective. Because of that, and many more things, I would hazard a guess that all of us were thankful for so much.
Have you been out on course around Thanksgiving? Share your own backcountry Thanksgiving memories…